Divided cloakroom locker ALDUR 1 with feet 1920 x 1200 x 500
Product code:

R3N 40 3 2 A C1 7035 7035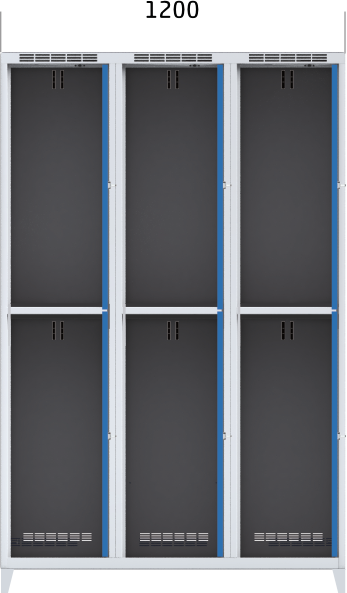 Divided Cloakroom locker double-plated doors with high resistance, feet h=120 mm, clothes bar + 3 plastic hooks
Detailed Description
| | | |
| --- | --- | --- |
| All the important constructional items of the third generation of the cloakroom lockers with doors inserted in a frame construction have been completely reworked. Metal parts are made of steel sheets with higher solidity. | | |
| | | |
| --- | --- | --- |
| | | The frame construction of the frontal part of the body is newly profiled and provides higher resistance against violent breaking the door into the body and makes a solid support for the safety door bolt. The door construction has been also completely reworked. They are newly furnished with reinforcing elements, they are standardly prepared for installation of opening limiters and damping elements. |
Ventilation system

The body is furnished with an efficient ventilation system which fulfils with a generous margin demands of DIN 4547 standard. Ventilation slots are cut in a safety section and they are placed in the frontal edge of the upper partition, in locker ́s bottom, in locker ́s back wall and on surface of all shelves.
Surface treatment

The input material is steel plate or steel profiles. In painting line IDEAL-LINE there is applied
a Fe-phosphate layer and the segments are dried. It ensures a better adhesion of the powder coat to the base coat. The powder coat of the desired shade is then applied onto the segments in electrostatic field and then it is hardened at temperature of approx. 180 °C. The final coat is hygienic, flexible and scratch resistant.
Specification points
Product line ALDUR 1, safety class C
Recommended version for cloakrooms at schools.
Their reinforced construction of doors and bodies is made of 0,8 mm sheet metal.
Double-plated doors with high resistance against twisting and bending
Reinforced construction around the lock – protection against turning and bending of the bolt
Door bolt with a hook – protection against door crushing
Doors hinged on massive metal pivots, max. opening angle 100°
Opening limiter
Hook for towel on inner door part
Shelf with surface carrying capacity 30 kg
Clothes bar with carrying capacity 10 kg
3 plastic hooks with carrying capacity 4 kg in each compartment
Mounting slots on sides of bodies for mounting into lines
Mounting slots on back wall of the body
Mounting slots in the bottom for mounting to the construction of a bench
Preparation for additional mounting of a shelf in the bottom part of the body
Their feet have a reinforced construction and are fitted with plastic endings.
Technical specification
Garment Lockers
Product line
4) Aldur 1 - reinforced door
Locker height (mm)
1920
Width of department (mm)
400
Number of departments (columns)
3
Number and arrangement of doors in the department
2x (above each other)
Internal arrangement
2) A - without shelf, clothes rail and hooks
Upper structure
1) straight lids
Substructure
2) Feet 120 mm
Ask for R3N 40 3 2 A