Digital Locks - Versa
If you would like to equip our garment lockers, lockable boxes, office or workshop cabinets with electronic code locks, we have a very good solution for you. It is Versa locks, which are available in two sizes, and can be both vertically and horizontally oriented.
Design
Versa locks are distinguished by a solid all-metal design, which contributes to their high durability. The locks are available in two colour options, namely in the brushed nickel decor or in the black colour. The locks can be mounted in a vertical or horizontal position.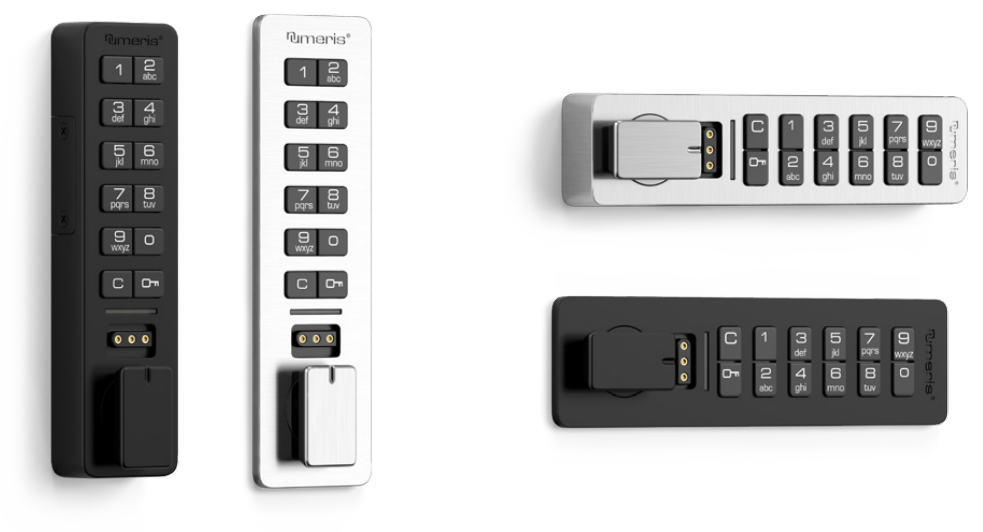 We offer both variants in two sizes. The first one is the STANDARD version with dimensions 133 x 32 x 13 mm, the other one is the MINI version with dimensions 101 x 26 x 13 mm. Depending on your choice, we are able to embed the locks into the casing, or mount them on the outside of the door.
Description
Versa locks with an alphanumeric keypad also have visual and acoustic indicators. The locks also have a slot for controlling the lock using an electronic key. It can be used for emergency door opening in the event of a power outage.
All Versa lock variants are equipped with a rotary control element for unlocking or locking. Its movement is transmitted to the rotating locking bolt.
Technical information
Service life of approx. 128,000 cycles (3-5 years)
IP 55, CE, IC and FCC certification
Powered by CR2032 batteries
2 year warranty
90° or 180° rotation angle of the bolt
LED and acoustic signalling
Function
Versa locks can be ordered for private or public use.
Private setting
This setting is useful if users do not change frequently. It is highly suitable for businesses and private spaces. For private setting, the user sets his/her own 4-7 digit code, which can be used repeatedly until it is changed, which increases user comfort.
Public setting
This setting is useful when users change. When locking the locker, the user sets his/her own 4-7 digit code, which is used to unlock the lock again. Then the lock is ready for entering the private code of another user.
Important warning
When specifying the order, we recommend choosing one of the above-mentioned settings, as it is possible to change the settings only after purchasing an electronic key.
---
Alternative variants of electronic code locks
SAFE-O-TRONIC LS 100 electronic code lock
An electronic code lock designed for locking garment lockers and boxes. The lock has a durable metal case, a capacitive keypad and a rotary knob. There are horizontal and vertical versions available for left and right doors. The locks are also suitable for humid environments, with the degree of protection IP44. Battery life is approximately 30,000 cycles. The user code is four-digit, the lock is equipped with a master code system and a system for blocking further attempts in the case of entering a wrong code repeatedly. The locks can be ordered with numbering or with the customer's logo. Higher series of the locks with combined code/RFID operation or NFC technology versions are also available.
EURO-LOCKS 3780 lock
A massive electronic code lock designed for use in garment lockers and lockable boxes. There are vertical and horizontal versions available. It is powered by 2 AA batteries and, depending on the set mode, has service life of up to 80,000 cycles.
The lock can work in a private or public mode, with a 4-digit user code and an 8-digit main code. The battery status warning is solved using LED. An acoustic signal can be switched on or off according to the customer's preferences. A big advantage is the possibility of emergency unlocking with a key. The locks are available in two colour options - black or silver.