Tablet and Laptop Charging Trolleys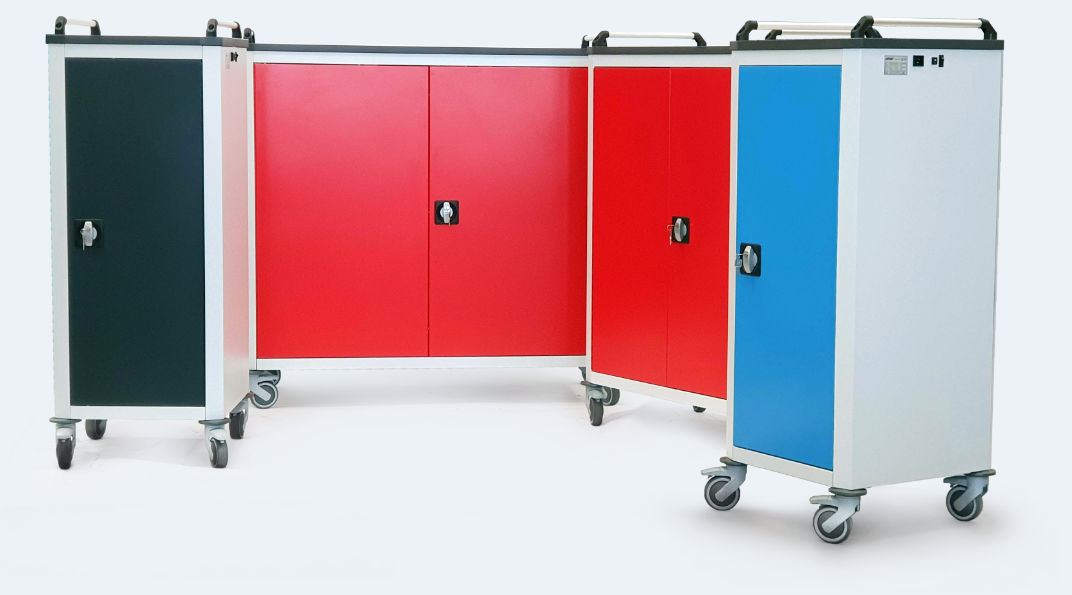 | | | |
| --- | --- | --- |
| Mobile device charging trolleys are used mainly at schools and training centres. After the lessons, students place their tablets or laptops in individual compartments and connect them to 230V sockets. In the classrooms, the trolleys are not connected to a power supply unit, and therefore the entire handling of electrical equipment is completely safe. The trolleys are then moved to the teachers' office and connected to a power supply unit. By gradually switching the individual supply circuits, overloading of the electrical network is prevented. | | |
| | | |
| --- | --- | --- |
| For easy handling of the charging trolley, we have installed a massive handle on the top board of the trolley. The upper storage area can be used by the teacher to store the laptop during data synchronization. | | At the front, individual compartments are equipped with a 230V socket. The rear side of the compartment is perforated. This prevents the device from overheating during the power supply process. |
The trolleys are fitted with solid wing doors with durable cylinder locks with a rotating handle.


The revolving door system allows them to open at approx. 185 °.

The trolleys are fitted with solid wheels with a rubber surface that leaves no traces on the floor covering. All chassis wheels are rotatable, which facilitates handling in confined spaces. All the wheels have a brake. Activation of the brakes on two wheels is sufficient for reliable fixing on a flat surface.

To protect the trolley frame and the walls, the lower chassis is fitted with rubber bumpers.