Special Hanger Sets with Storage Boxes
| | | |
| --- | --- | --- |
| In cooperation with our Dutch business partner, we have succeeded in winning the tender for repeated deliveries of special hanger sets for fire brigade locker rooms. | | |
| | | |
| --- | --- | --- |
| | The hanger sets are designed to store firefighter suits as a modular system, which consists of a basic and an additional unit. The sets are available in single sided and double sided versions, or in a version designed for mounting onto the wall. For optimal use of space, it is possible to manufacture sets designed for 2 or 3 people. | |
Examples of the sets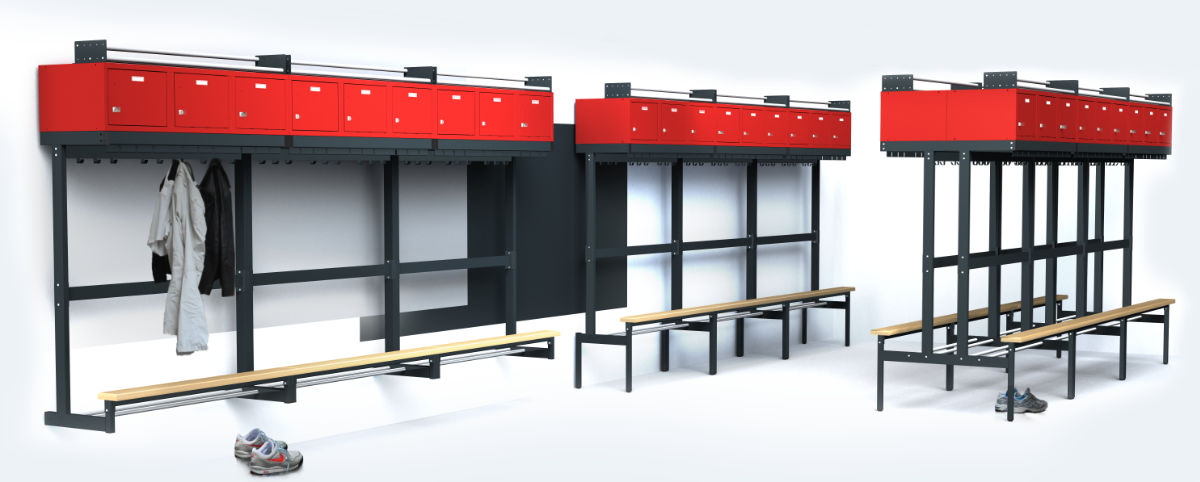 | | | |
| --- | --- | --- |
| At the top of the set, there are personal belongings lockers. The lockers can be locked with cylinder locks or other types of locks. | | In the upper part of the locker unit, there is a holder with three tubes made of anodized aluminium where firefighter helmets can be safely stored. The position of the tubes can be adjusted according to the user preferences and the type of the helmets used. In any case, there is always sufficient air access to the inside of the helmet for easier drying. |
The hanger set is sufficiently dimensioned. Each user has a bar with three positions for inserting a clothes hanger, and a bar with three metal hooks at the back.

If you are interested, we are able to offer a supply of massive hangers for storing firefighter suits.

In the lower part of the set, there is a seating surface fitted with a solid beech slat. Besides sitting, it can be used as a support for faster putting on high firefighter boots.
| | | |
| --- | --- | --- |
| The legs of the firefighter hanger sets for are height-adjustable, making it easy to deal with any uneven floors. | | |