Warehouse cupboard 800 x 800 x 300
Product code:

SS 80 4 S4 PP C1 7035 7035
Warehouse cupboard 800 x 800 x 300. Korpus se vyznačuje tuhou svařovanou konstrukcí a je vybaven výškovou rektifikací a otvory pro kotvení ke stěně nebo podlaze.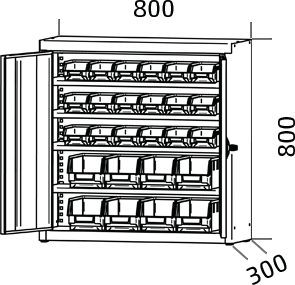 Specification points
The body

is characterized by a solid welded construction and it is furnished with slots for anchoring to the wall. The body ́s carrying capacity is 100 - 300 kg. The body is inside prepared for installation of shelves.

The doors

are hinged on massive pivots, angle of opening is 110°. On their inner part there is a reinforcing element. Locking is solved by a turning padlock cap and a three-point locking mechanism.

The shelves

have a surface carrying capacity 60 kg and are adjustable after 25 mm.
Technical specification
Universal cupboards
Locker height (mm)
800
Cabinet width (mm)
800
Body load (kg)
150
Warehouse cupboards
Cabinet depth (mm)
300
Ask for SS 80 4 S4 PP