Trolley DVU 968 x 765 x 500 - basic - 4x drawers
Product code:

DVU 3623 17U 4A C1 7035 5012
The UNI line trolleys are intended for transport of components and tools. They are useful for setup men, service workers and CNC machines operators.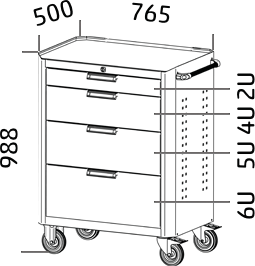 Detailed Description
The standard versions of trolleys are in their upper part furnished with a putting surface filled with a 5,0 mm foam. Along the putting surface there is a frame which makes a protection against falling of small objects.
The bodies of the trolleys are constructed as solid weldments, they have a central locking system and they are furnished with a wheelframe with a pair of fixed and a pair of revolving castors with a brake. The castor ́s diameter is 100 mm.
Technical specification
Workshop Trolleys
design
a) basic
Product reviews
Product has not yet recieved any reviews. Be first!
Leave a review
Ask for DVU 3623 17U 4A