The stationary system stand 1114 x 1015 x 250
Product code:

DES 102S 20U K04 B
Designed to furnish industry assembly plants, warehouses and shops with tools and hardware.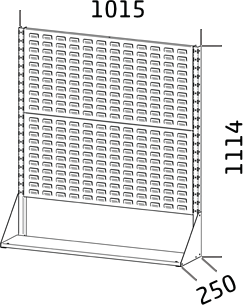 Detailed Description
The stands are produced in basic or additional versions. You can create coherent walls fitted with EUROPERFO® panels with perforation slots intended for mounting holders for tools or with ALFABOX® panels intended for hanging of plastic bins or shelves.
Technical specification
System stands
Stand design
stationary
Stand height (mm)
1114 ( 20U )
Stationary stand design
basic
Product reviews
Product has not yet recieved any reviews. Be first!
Leave a review
Ask for DES 102S 20U K04 B