The mobile system stand 1686 x 1020 x 500
Product code:

DES 102P 30U K05
The mobile system stands are designed for everyday hard using at industry assembly plants. The stands are made of a resistant construction and are furnished with a manipulation handle and a wheelframe fitted with 2x fixed and 2x revolving castors with a brake. The castor ́s diameter is 100 mm.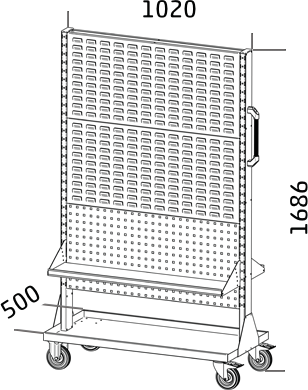 Detailed Description
The basic supporting construction can be furnished with EUROPERFO® panels with perforation slots intended for mounting holders for tools or with ALFABOX® panels intended for hanging of plastic bins or shelves.
Technical specification
System stands
Stand design
mobile
Stand height (mm)
1686 ( 30U )
Product reviews
Product has not yet recieved any reviews. Be first!
Leave a review
Ask for DES 102P 30U K05