The computer cabinet 1700 x 650 x 600
The basic computer cabinet is intended for placing a computer with an LCD monitor and external equipment at plants. The upper part of the cabinet is furnished with a glass-filled door made of 4 mm thick safety glass.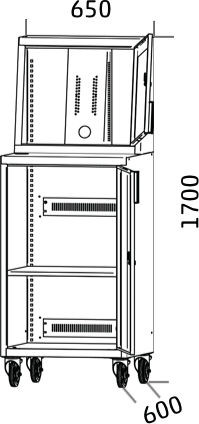 Detailed Description
The upper part is intended for placing an LCD monitor without up to 20". A monitor of 115 mm maximal depth can be placed directly on the cabinet ́s holder with slots in VESA 75 or 100 mm standard. The dimensions of the place for a monitor are 470 x 570 x 115 mm. A keyboard and a mouse is placed on the outer surface in the cabinet ́s bottom part in front of door for a monitor. In the bottom part there is place for a computer, a printer or other devices.
The part of the standard version is a shelf adjustable after 25 mm. In the back wall of the cabinet there are covers with ventilation slots and cable outlets. The versions on a socle with a height adjustment or on wheelframe are available. The cabinet is well prepared for mounting accessories.
Product reviews
Product has not yet recieved any reviews. Be first!
Leave a review
Ask for CSP 65 1 C