Premium lockers Z-shaped doors ALFORT DD 1920 x 900 x 520
Product code:

F3S 30 3 Z S DD C1 7035 L1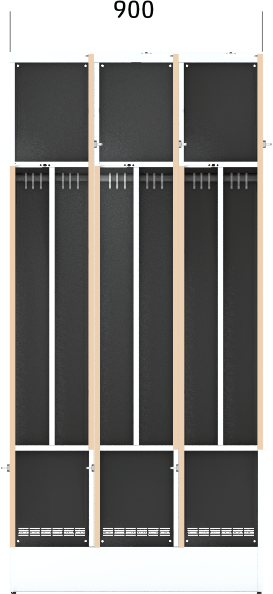 Premium lockers Z-shaped doors with front-standing doors, socle h=160 mm, shelf, clothes bar + 3 plastic hooks
Detailed Description
Premium cloakroom lockers with front-standing doors with a trade name ALFORT. These cloakroom lockers are characterized by modern and clear lines and a wide range of material and colour versions of doors panels. Due to all these characteristics the lockers can be used in modern interior architecture, especially at cloakrooms of hotels, wellness and fitness centres
or swimming pools.
---
Laminated doors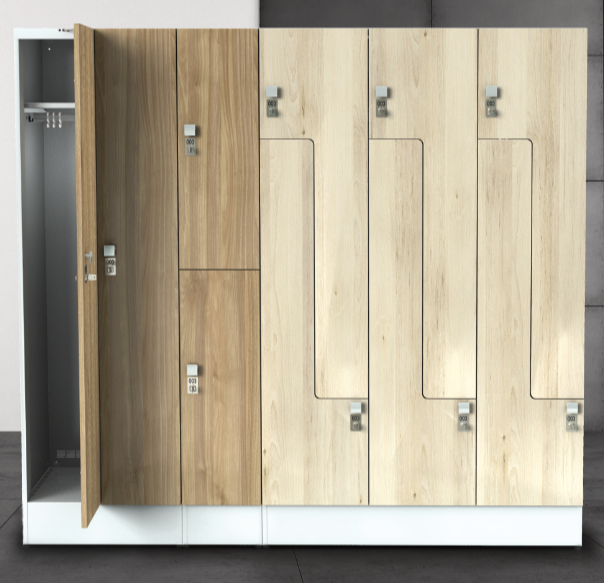 Doors wings are made of laminated chipboard desk with ABS edge. Doors are hinged on furniture pivots with damped closing function. Massive opening limiter is supplied standardly. Doors are fitted with an aluminium hold for better manipulation.
---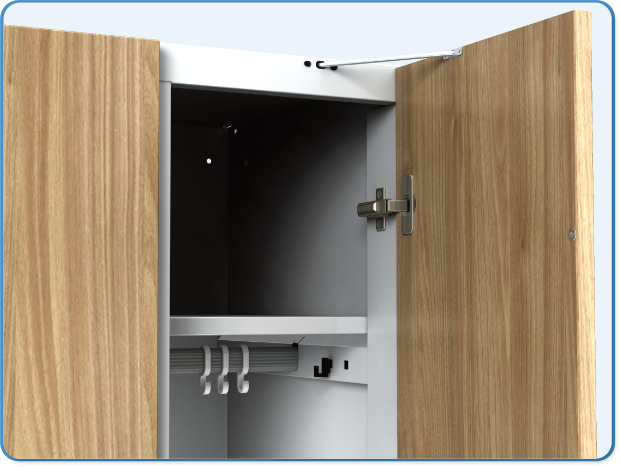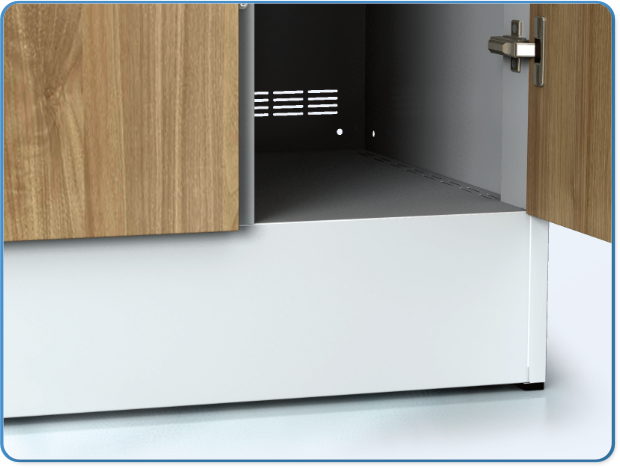 Ventilation system
The body is furnished with an efficient ventilation system which fulfil with a generous margin demands of DIN 4547 standard. Ventilation slots are cut in a safety section and they are placed into the horizontal body panels and on locker ́s back wall. To ensure the right function of ventilation please follow the installation instruction of the producer.
---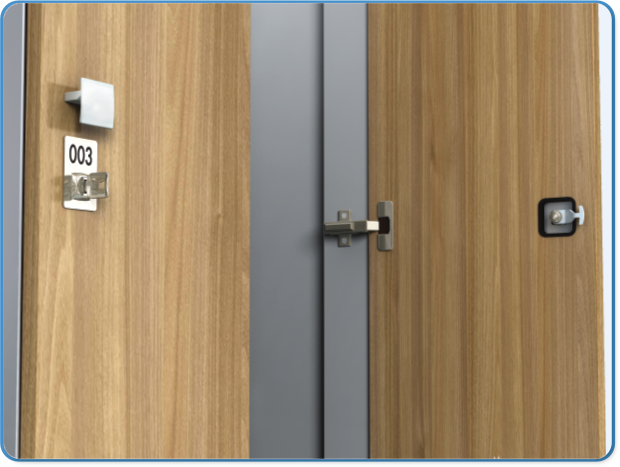 Locking systems
● Cylindrical lock C1, 4000 combinations, a master key option.
● Turning security padlock cap OB1 is intended for a padlock of stirrup diameter 5 – 8 mm.
Locking systems C1 and OB1 consist of a bolt with a safety hook which increases the resistance of the doors against violent breaking.
Extra charge equipment:
○ Coin deposit lock
○ Code mechanical lock
○ Code electronic lock
○ Online electronic systems
○ Chip electronic lock
---
Surface treatment
The input material is steel plate or steel profiles. In painting line IDEAL-LINE there is applied a Fe-phosphate layer and the segments are dried. It ensures a better adhesion of the powder coat to the base coat. The powder coat of the desired shade is then applied onto the segments in electrostatic field and then it is hardened at temperature of approx. 180 °C. The final coat is hygienic, flexible and scratch resistant.
Specification points
can be used in modern interior architecture, especially at cloakrooms of hotels, wellness and fitness centres or swimming pools.
Their reinforced construction of doors and bodies is made of 0,8 mm sheet metal.
socle 160 mm
Doors made of laminated chipboard with ABS edge
Reinforced construction around the lock – protection against turning and bending of the bolt
Door bolt with a hook – protection against door crushing
The towel hook in the side wall below the shelf
Shelf with surface carrying capacity 30 kg
Oval clothes bar made of eloxal aluminium
The clothes bar furnished with three metal hooks with carrying capacity 10 kg.
Mounting slots on sides of bodies for mounting into lines
Mounting slots on back wall of the body
Opening limiter
Preparation for additional mounting of a shelf in the bottom part of the body
+ *Design with legs made of 40 x 40 mm profile with plastic gliders
+ *Cabinet design for wet environments made of powder-coated galvanized sheet metal, doors made of compact HPL surface, un-color and imitation of wood and other materials according to current offer
legend:
​• standard equipment
+ extra charge equipment
* Execution on request. The minimum order quantity is limited and the surcharges are set individuall
Technical specification
Premium Garment Lockers
Product line
Laminated doors ALFORT DD
Width of department (mm)
300
Number of departments (columns)
3
Number and arrangement of doors in the department
2x (Z shape)
Ask for F3S 30 3 Z S DD