IN-HOUSE DEVELOPMENT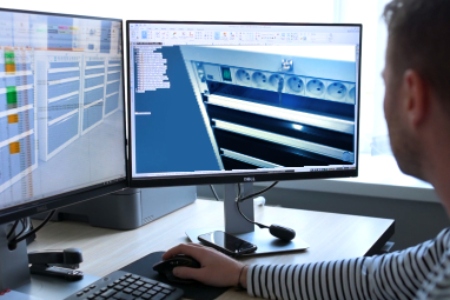 We develop and manufacture all our products ourselves in the environment of our modern factory. Further improvement of the existing products, new product development, and the implementation of customer solutions is simplified by the ERP information system, which constantly collects and evaluates data related to the company's work processes. Top structural software and programming systems of the production lines are also connected to this system.
Our database also includes parametric models that we create in a structural 3D system. We carefully store the proven design principles for further use. Our important structural elements are protected by industrial designs and patents.


We create solutions that will relieve you of your worries.
Leave us a message. Together we will come up with a perfect customized solution exactly for you.
We are constantly improving the existing products.
Our product range consists exclusively of quality products that have been tested by our experts. We regularly check their functionality and thoroughly consider the benefits of possible innovations. Our goal is to make their use more comfortable, and streamline the entire production process. We always rely on our own knowledge, but we also take feedback from our customers into account.
We pay attention to functionality and design.
Our locker system for automated parcel delivery is an example of this. We have equipped it with electrically operated locks connected to the control terminal, which enables payment, printing and communication with the provider's company systems.
How does the development of new products take place?
Let's not just stay with general, albeit true, knowledge. Let us immerse ourselves in the entire development process together. We have prepared the answers to the questions about its organization, new product testing and expectations regarding its further development.
1. Who is behind the decision which direction the product development will take?
We develop new products based on decisions made by the company's management. We are based on requirements and market research, our technical capabilities and estimates of the future development in the field.
2. Who is involved in the new product development process? How does this process work?
Each developmental assignment has its own project manager. Each of our developers further specializes in a certain group of products, has detailed knowledge about it, which contributes to the development of better solutions. Simpler projects using proven procedures are processed by this designer (developer) independently. During the individual stages in the design process, he/she regularly consults a team of other designers about more complex assignments. If necessary, the director, trader, external supplier or customer is also involved in this process.
Jednodušší projekty s využitím ověřených postupů zpracovává tento konstruktér (vývojář) samostatně. Složitější úkoly během jednotlivých fází návrhu pravidelně konzultuje v týmu ostatních konstruktérů. V případě potřeby je do tohoto procesu zapojen i ředitel, obchodník, externí dodavatel nebo přímo zákazník.
3. How is a new product tested?
Testing can be divided into process testing and product testing. In process testing, we verify the proposed structure with regard to the use of the technical capabilities of our equipment, optimizing material consumption and time of the production operations. In product testing, we verify compliance with the parameters specified by the customer, prescribed by the standard or the expected method of use or loading.
4. Where do we see the future of the field?
We see the future of the field in the area of smart storage solutions with electronic locking systems with access and payment terminals, interconnected with corporate information systems and applications. Furthermore, we expect that more and more attention will be paid to the ergonomics of workshop workplaces, and the connection of production and control equipment with industrial furniture. Last but not least, we expect development in the field of storage systems with the possibility of battery charging.
5. What would we like to achieve in product development?
We would like our solutions to make the customer feel that the person who has designed and manufactured our products understands their work well. Our solutions must be reliable, functional, safe and well-processed, also in terms of their design.