Hanging UNI line cabinet for workbenches 218 x 480 x 600 - 1x drawer
Product code:

DK2U 3U 1A S C1 7035 5012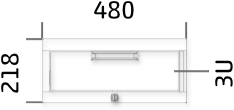 Drawer 2427E, telescopic slide-rails with 100% sliding and with a carrying capacity of 40 kg. The bodies are constructed as solid weldments, they have installed a central locking system and in the bottom or in the back wall they are furnished with slots for anchoring to the wall or to the floor.
Technical specification
Workshop Cabinets
Product line
UNI
Basic division
a) sockets
Internal dimension of the drawer
2427E (400 x 451 mm)
Body height
a) 3U (218 mm)
Storage of drawers
d) telescopic 100% extension load capacity 40 Kg
Upper structure
painted sheet metal
Substructure
a) base socle 40 mm
Product reviews
Product has not yet recieved any reviews. Be first!
Leave a review
Ask for DK2U 3U 1A S