Hanging cupboard 444 x 955 x 200
Product code:

DP ZS 955 10U
The hanging cupboard increases the secured deposit capacity of the workplace. It is furnished with wing doors lockable by a C1 cylindrical lock with two-point locking system.
Dimensions: 444 x 955 x 200 mm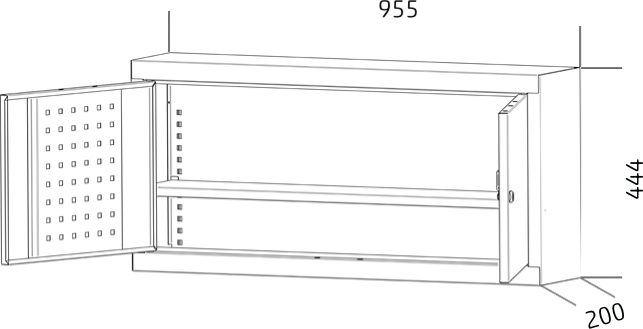 Detailed Description
It is also furnished with EUROPERFO panels on its inner door parts and with an adjustable shelf. The cupboard has in its side walls slots for fitting to the DP DEP holders, in the back wall there are slots for fixation to the wall. Due to the security reasons the fixation to the wall is mandatory.
Technical specification
Individual programme workbenches
Individual programme workbenches
Hanging system
Product reviews
Product has not yet recieved any reviews. Be first!
Leave a review
Ask for DP ZS 955 10U