Exterior cabinets for fire extinguishers 720 x 340 x 270
The cabinets for fire extinguishers are constructed as resistant weldments with full rear part and with wing-doors. In the door plate there is a key holder placed behind the breakable glass. The cabinet is furnished with slots for placing the sealing.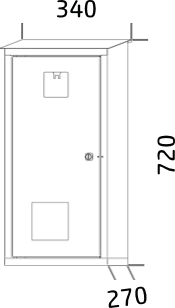 Detailed Description
The cabinets are furnished with a self-adhesive label with the symbol of extinguisher. The surface treatment is solved by powder coating, standardly in RAL 3000 - flame red, alternatively they can be supplied in white colour. The part of the supply are two keys and the material for anchoring into the wall. For an extra charge it is possible to produce the cabinets in stainless version or in version designed for inbuilding into the wall.
Recommended using:
shops and supermarkets
parkings and garages
offices and administrative blocks
blocks of flats
production plants
hotels
Technical specification
Cabinets for fire extinguishers
cabinet selection
Cabinets for fire extinguishers
design
Exterior
number of fire extinguishers
1
size of fire extinguishers
9 kg
Product reviews
Product has not yet recieved any reviews. Be first!
Leave a review
Ask for HPV 9 1 A