Cabinets for workbenches 840 x 555 x 600 - door
Product code:

DKP 2727 17U 1D C1 7035 5010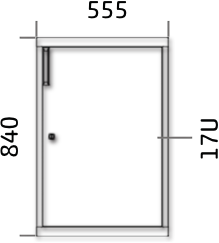 The bottom part of the body is furnished with slots for anchoring to the floor. We recommend anchoring the cabinet in case it will be loaded to the limit of its maximum carrying capacity.
Detailed Description
The doors are furnished with a comfort aluminium handle with a groove allowing to insert a label. On the inner part of the door wing there is a reinforcing item with EUROPERFO® slots intended for installation of holders for tools. Locking by cylindrical locks. Unlocking doors are magnetically kept in closed position.
Specification points
The body is furnished with assembling slots intended for installation of shelves in 25 mm raster.
Technical specification
Workshop Cabinets
Product line
PROFI
Basic division
c) doors
Body height
d) 17U (840 mm)
Upper structure
painted sheet metal
Substructure
a) base socle 40 mm
Ask for DKP 2727 17U 1D