Alsor Model Line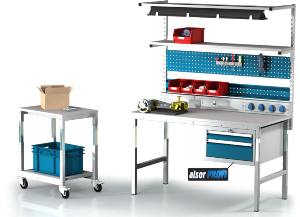 The lower supporting frame is made of steel closed profiles, and is distinguished by above-standard rigidity. The ALSOR workbenches are height adjustable. The height adjustment range of the 25 mm thick worktop is 681-1,037 mm. In this range, the height of the workbench can be changed manually. The advantage is the possibility of using grooves on the telescopic part of the leg to easily find the predefined positions.
The lower frame of the workbench is already fitted with an adjustable partition for attaching PROFI or UNI suspension cabinets.
The UNI workshop cabinets are a cost effective solution mainly used in assembly plants.
The system cabinets of the PROFI workbenches are designed to meet all the requirements for professional workshop furniture designed for the most demanding applications
The look of the drawer front panel can be customized using an application, designed to label the contents of a drawer.