Alcera Model Line
The Alcera workbenches are distinguished by a massive welded frame, modern look, and careful workshop processing. While designing individual products designed for workshop equipment, we focus not only on durability, design, ergonomics, size and accessibility of storage space, but also on connectivity with the information systems, as well as media distribution and power distribution systems.
| | | |
| --- | --- | --- |
| Are you interested? Here you will find it: | | Be amazed by the quality of our metal furniture! |
The basic supporting element of the ALCERA workbench frame is the legs made of profiled sheet steel.
The legs are available in a fixed, height-adjustable or mobile design. Horizontal connectors or corner reinforcing elements are used to ensure the stability of the bottom frame. They are installed between the workbench leg and the worktop.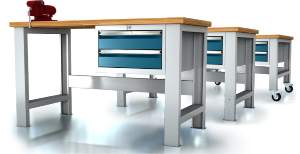 It is also possible to use cabinets of the PROFI or UNI lines in the 17U version with a height of 840 mm as load bearing elements. In this case, the height of the 40 mm thick worktop is 880 mm.
The UNI line workshop cabinets are a cost effective solution that can be used above all in assembly plants.
The system cabinets of the PROFI line workbenches are designed to meet all the requirements for professional workshop furniture designed for the most demanding applications.
You can customize the look of a drawer front using an application which is designed to label the contents of a drawer.
​